Talloolah Love
As you enter the dimly lit venue, your ticket is sold to you by a man in a zoot suit. You pass women in stylish 1940's dresses, flappers, possibly even a girl in a poodle skirt, their companions adorned with fedoras and wide ties. A cigarette girl wearing a corset, a garter belt and very little else proffers her wares to you.
The lights dim, and a man in a pinstriped suit strides onto the stage. "Hey, Joe!" he declares, singling out a hapless man in the front row. "How's your wife and my kids?"
After a few more wholesomely ribald jokes, he surrenders the stage to a woman wearing a 1940's dress. As 1940's music plays, she strips to reveal... 1940's style underwear. Meanwhile, the audience whistles and cheers as if seeing a woman in her underwear is still a significant event.
Welcome to the contemporary world of burlesque.
If you live in a large or largeish city, most likely there are burlesque troupes in your area. It's a small, cultish interest, the performers often travelling from nearby states to cross-pollinate the world of sequins and feathers and corny jokes. The audience is often almost as worthy of watching as the performers; those with a love of retro clothing don their reproductions or vintage finds and take advantage of the chance to show them off.
There are now hundreds of burlesque troupes in America and Europe, so if you are near a city of any size, you can find a performance. The links below are mostly to performers I have personally seen perform; this is just to get you started.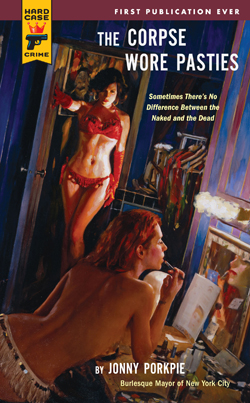 This delightful mystery, written by a real-life burlesque performer, embodies the old hardboiled private eye novels but puts twists on the traditional elements. The sleuth still encounters alluring women and gets beaten up in his quest for answers; the difference is that now it's the alluring women who do the beating up. Read an excerpt here.
Syrens of the South
Fonda Lingue
The mistress of illusion, Atlanta's boylesque star!
Big City Burlesque
Atlanta Burlesque Troupe
Gigi La Femme
Performer based in New York.
Michelle L'Amour
Burlesque dancer based in Chicago.
Bettie Page Official Website
The original Queen of Burlesque!
Catherine D'Lish
One of today's foremost burlesque dancers, Catherine often performs with her friend Dita von Teese.